No Dogs Left Behind – The Fight Against Inhumane Dog Meat Market
It is estimated that every year over 30 million dogs are slaughtered for human consumption in Asian countries including China, Thailand, South Korea, Vietnam, Laos, and Indonesia. With those numbers, it seems like a hopeless task for the organizations that are desperately fighting to end the dog meat trade in Asia.
No Dogs Left Behind, a non-profit international animal welfare organization, was founded by Jeffrey Beri in 2016 and leads the way in the global war against animal cruelty. Competition Subaru of Smithtown is proud to support No Dogs Left Behind and their mission to end the dog meat market and illegal dog traffickers. Jeffrey and his team have been fighting for the past several years and are committed to ending this horrific industry in Asia.
The Fight Against The Inhumane Dog Meat Market
Their mission extends beyond borders worldwide, advocating for the creation and enforcement of animal welfare laws, and raising awareness for a cruelty-free, sustainable world in which no animal is violated, exploited, tortured, or slaughtered for commercial goods or profit. Working hands-on with local activists through emergency response, Jeffrey's team pulls dogs directly from slaughterhouses, dog meat trucks, wet markets, and traffickers. The NDLB team works day in and day out to save as many dogs as they can from being recklessly and inhumanely slaughtered for human consumption.
How You Can Help No Dogs Left Behind
Adopt A Dog – Take one or two of the broken souls into your home and give them the love they
deserve. NDLB is constantly looking for homes for their many shelter dogs. Check out the dogs
they have for adoption here.
Sponsor A Dog – Sponsoring a dog is the next best thing you can do if you can't adopt a dog. By sponsoring a dog, you are paying for their monthly food, veterinary care, and routine vaccinations until they can find a permanent home. Another option includes flight sponsorship which will assist in getting the dog to the United States and into a forever home, foster home, or rescue partnership. The cost of a flight sponsorship varies depending upon the weight and size of the dog being transported. Learn how to sponsor a dog here.
Foster A Dog – Fosters are always needed throughout the USA and Canada. Fostering one of the survivors allows for more space in their sanctuaries so more dogs can be saved from the illegal dog meat trafficking trade in East Asia. In addition to saving more lives, fostering helps their survivors by giving them the opportunity to adjust to a home environment and decompress from the trauma that they have experienced, thereby making for a more successful, forever adoption. NDLB is specifically looking for fosters right now here on Long Island! For more information on fostering, visit their website here.
Volunteer Your Time – Get more involved and offer your talent and energy to help the efforts of NDLB! You can help with fundraising initiatives in your community, graphic design assistance, email alerts, write stories about the survivors, and help with media and community outreach. If you are interested in volunteering, visit their website here.
Donate Monthly – Monthly donors are the lifeline for NDLB. Every dollar donated makes a difference in the life of their dogs, and enables them to continue to rescue more. Donations are critical to funding the ongoing expenses associated with the care, rehabilitation, and transport of their survivors. Every little bit helps. To donate, visit their here.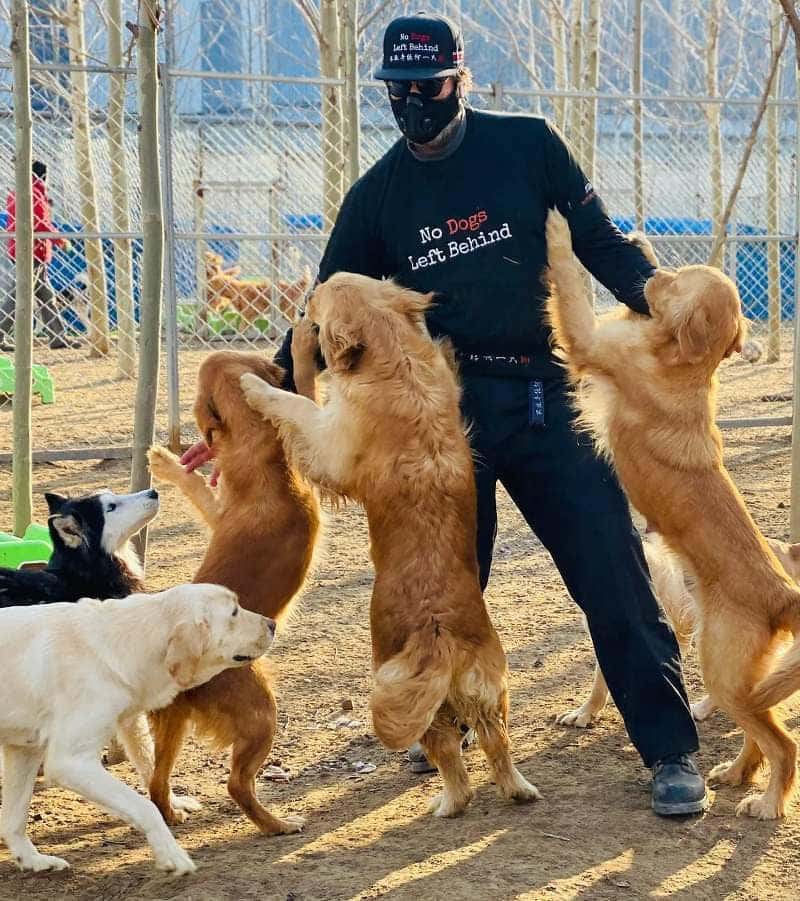 No Dogs Left Behind Safe-Havens
With nearly 500 survivors in their care, No Dogs Left Behind operates sanctuaries in Dayi and Gongyi, Asia. In these safe havens, these once victimized and exploited dogs receive medical care, nutritional support, and rehabilitation on an ongoing basis. No Dogs Left Behind goes beyond rescue, doing whatever it takes to heal the physical and emotional scars these animals suffer and to find them their forever loving homes. Meet their brave survivors here.
Competition Subaru of Smithtown is proud to support No Dogs Left Behind and their mission to end the inhumane dog meat market and illegal dog traffickers. To learn more about this extremely dedicated non-profit organization, visit their website www.nodogslefitbehind.com. Stop by Competition Subaru of Smithtown and explore our new and pre-owned inventory. Test-drive vehicles like the New 2022 Subaru Outback or the New 2021 Subaru Crosstrek. Schedule a service online at our Subaru Service Center and take advantage of our service and parts & accessories specials! We look forward to seeing you at our Subaru dealership located at 601 Middle Country Road, Saint James, NY.