The 2022 Subaru Love Promise Customer and Community Commitment Award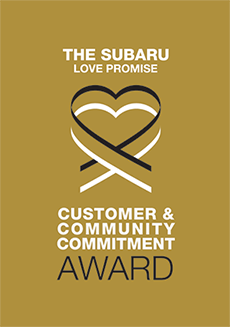 We've been nationally recognized for our dedication to our customers, our community, and the Subaru Love Promise.
We're honored to receive the 2022 Subaru Love Promise Customer and Community Commitment Award. This award nationally recognizes elite Subaru retailers who provide an exceptional customer experience at every interaction with Subaru. These retailers have also demonstrated an outstanding commitment to supporting passions and causes in their local communities in important areas such as the environment, community, health, education, and pets.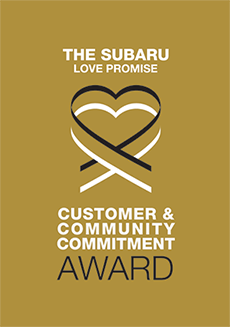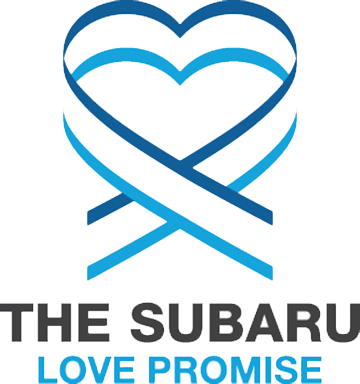 What is the Subaru Love Promise?
Subaru and our retailers believe in making the world a better place and the Subaru Love Promise is our vision of respecting all people. This is our commitment to show love and respect to our customers and to work to make a positive impact in the world.
How is Competition Subaru of Smithtown dedicated locally to the Love Promise?
Our Love Promise can be seen in various partnerships with local charities and non-profits. We're grateful for the opportunity, not only to be a part of our community, but to serve it as well.
Paws of War, Save A Pet Rescue
one tree planted , Terracycle
JOHN THIESSENS CHILDREN FUNDATION, Island Harvest Food Bank, Suffolk County Dept of Social Services
Stony Brook Children's Hospital , Stony Brook University Hospital
Love Promise Stories from Competition Subaru of Smithtown
Subaru and Competition Subaru of Smithtown believe in making a positive impact on the communities in which we live and work. We uphold that belief through our Love Promise Community Commitment. Every month, we select inspiring stories from customers and partners from around our area who strive to support our collective commitment and feature them here
From Every one of us at Paws of War - Kelli P
Paws of War would like to express our deepest appreciation towards your generous donation of $12,715.46. It is your support that makes our misson possible.
---
He sees with his heart - Dori S
Some people see with their hearts, blind to the imperfections of others and unconditional in their love. These are the kinds of rare individuals we count as blessings at Save-A-Pet this holiday season and always. Without this kind of devotion, what chance would any of our most needy companions have for the life they deserve?When we got the desperate call to help Gizmo, we rushed to action. There's not always a long-term plan in place at a shelter. Life or death doesn't have time for that. The emergency animal hospital was presented with a dog who had been violently attacked, which resulted in him losing his left eye. While gruesome in its resulting wound, that wasn't the worst part. You see Gizmo only had one eye to begin with, also lost by some sort of situation. We know what you're thinking.... So perhaps it was a blessing that his owners no longer wanted him and asked the hospital staff to just euthanize him. And they walked out the door.A dog with no eyes is not discarded at Save-A-Pet. We welcomed Gizmo into our care with the promise of healing, the commitment to a safe life, and the assurance that we would nd his forever person. We posted his story on social media and just one day later, Karen entered our center.Having experience with a special needs dogs, Karen is a person who sees with her heart. When she heard about Gizmo, she immediately came to Save-A-Pet to take him home. There, he is already learning to see from within. To feel the loving arms around him. To trust in the guidance that is steadfast and reassuring ashe learns to navigate this new life. Though his paws hardly ever touch the ground, Gizmo loves his new home. His brothers, Riley (who wears a helmet due to neurologic issues and Walter, (one of our holiday hundred from 2017) and this adventurous, visionary journey that promises the life he has always deserved. Thank you Subaru for helping us help the underdogs of the world!
---
Thank you for your support - Family and Children's A
Thanks so much for your donation to this years adopt a family program. You can be sure your generous gift were out to work immediately, providing help, hope and comfort to those who need it most during the holidays season. Because of you FCA continues to offer support and services to help Long Island's most vulnerable children families, seniors and communities.
---
Smithtown Children's Foundation- Thanks you - Krissy L
I just want to pass along my sincerest thanks on behalf of Smithtown Children's Foundation. Your support and generosity are greatly appreciated. During these unprecedented times, we found ourselves tasks with assisting more than double the families we typically work with during the holidays. As you can imagine our ability to fundraise has been limited, business like your made it possible for us to help all those who reach out.
---
Hook and Ladder CO No 1 - Nicholas S
On Behalf of Stony Brook Fire Department -Eagle Hook and Ladder CO No 1 we thank you for your generosity. Competition Subaru's donation helps fund necessary apparel that will not only distinguish us as member of the aforementioned company, but also signify our affiliation with the fire department. We are also in the midst of planning a few team building activities to aide us to better function as a team. In turn, this helps with our morale level and serves as a chance to entice other community member to join our volunteer services.
---
One Tree Planted - Diana C
We are happy to award Competition Subaru as a privileged and distinguished partners of one tree planted whose contributions have been and continue to be, essential to the reforestation, conversation and protection of forest around the world
---
Help a Vet - Save a Pet - Kelli P
On behalf of Robert Misseri and the Paws Of War Family, we want to send you and the Subaru Family our sincere gratitude and appreciation for all of your support. This donation we assist us in so many ways to continue our mission of helping both ends of the leash.
---
Ronald McDonald House at SBU - Nick C
The Ronald McDonald House Charities of Long Island thanks you for your generous donation from the Competition Subaru. The donation will go towards raising funds during our Golf Outing on May 25 to build a new Ronald McDonald House at Stony Brook Children's Hospital. The Competition Auto Group has been graciously supporting our Ronald McDonald House fund-raising events in the area for several years. Thank you!
---
Celebrate St James Past Present- Future - Natalie W
Celebrate St. James Past-Present-Future, a non-profit organization formed to revitalize our town through its history and the cultural arts, heartily acknowledges and commends the Competition and its Founder, Joseph Buzzetta, Sr., for its support of our community. A trailblazer and trendsetter for close to 60 years, his organization has been the standard bearer for excellence in quality and service in all their products. He has set an example that others emulate in both his business practices and community altruism. Historic St. James Cultural and Arts District On Lake Avenue by a much appreciated donation for the building of "Celebrate Park," which is a testament to what can be accomplished with the collaboration of town government, residents, town organizations, and most of all, the business community. Thank you for being the leader you are in your industry and for setting an example for others to follow. Warmly, Natalie Weinstein
---
Saving Squash! - Dori S
Squash was confiscated from a horrific dog fighting ring in Macon, GA. We brought her up to our shelter in NY, along with 3 others and her journey to healing began. Although she endured unfathomable cruelty, her gentle spirit shined through. Squash was one of the dogs we brought to the Share the Love Event at Competition Subaru of Smithtown, and everyone fell in love with her. Through this event, Squash found her forever home. No longer will she be used and abused for profit. Although she still wears the scars of her past, this 4 year old dog has a future filled with hope and love. We are so grateful to Subaru for showcasing Squash and the other wonderful dogs from Save-A-Pet. They all found wonderful homes!
---