Maximize Your Trade-In Value
Unlock Your Instant Cash Offer Today
Sell or Trade Your Vehicle with Us in Partnership with Kelly Blue Book!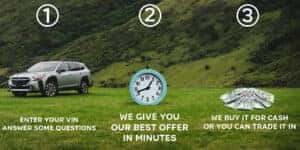 Your offer is good for 7-days, giving you ample time to think about it!

---
Trade-In or Sell Your Vehicle
Sell Your Vehicle
– We will pick up your vehicle upon request*
– Drive your car to us and we'll Uber you home*
– Receive assistance from our exceptional team throughout the process
*15-mile radius
Trade-In Your Vehicle
– Apply your trade-in value to reduce or even eliminate the payment on your next car!
– Effortlessly transition from your current vehicle to the car of your dreams
– Enjoy a seamless trade-in process with our dedicated team of experts
---
---
Seamless, Online, and At Your Own Pace
  We understand that everyone is different, and we tailor our process accordingly.
 We will verify key details about the vehicle such as ownership, loan or lease information, and more.
After our review, we process your payment and schedule the pick-up or drop-off of your vehicle.
---
Pick Up or Drop Off Process
Pick Up
– You let us know where and when, and we'll come to you and pick up your vehicle*.
– If you bought a vehicle from us, we'll bring your new one and take your old one*.

Drop Off
– Choose the best date and time you would like to drop off your vehicle to us.
– If you traded your vehicle in for a new one, we'll have it ready for you to drive home.
*15-mile radius
---
Frequently Asked Questions
How long is my offer good for?
The offer is valid for 7 days, then the vehicle must be reappraised.
How is my trade-in value determined?
The value is determined based on a variety of factors such as mileage, condition, and more. We accept any brand such as Chevrolet, Ford, Kia, Hyundai, Tesla, Lincoln, Porsche, Range Rover, Cadillac, Acura, and much more! In addition, if we think the car is worth more than what Kelly Blue Book is recommending, we'll pay more!
Is my offer negotiable or valid for a price match?
We do not price match or negotiate your trade-in offer. We strive to provide a smooth and hassle-free experience for our customers, so we provide our best offer upfront.
How can I get more money for my vehicle?
Please ensure that you give the most accurate details when inputting information about your vehicle. This is the information that is used to determine how much your vehicle is worth. The more accurate you are, the better we'll pay!
Can I sell my vehicle without buying one?
Yes! We'll even come pick it up if that's more convenient for you. We will pick up anywhere 15 miles away from us or closer, that's as far as Centereach, Bay Shore, Northport, Mineola, and more!
When and how will I get paid?
If you want a same-day check, you must meet with us earlier in the day. If you prefer to be mailed a check, it will be sent within 24 hours, always.
---
Customer Testimonial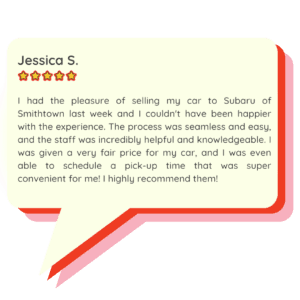 ---
Start the Process