The tires on your Subaru are its direct connection to the road, and the areas where they touch are about the size of your hand. This is why having tires in good condition is so important in helping maintain maximum vehicle control, especially while driving through varying road and weather conditions.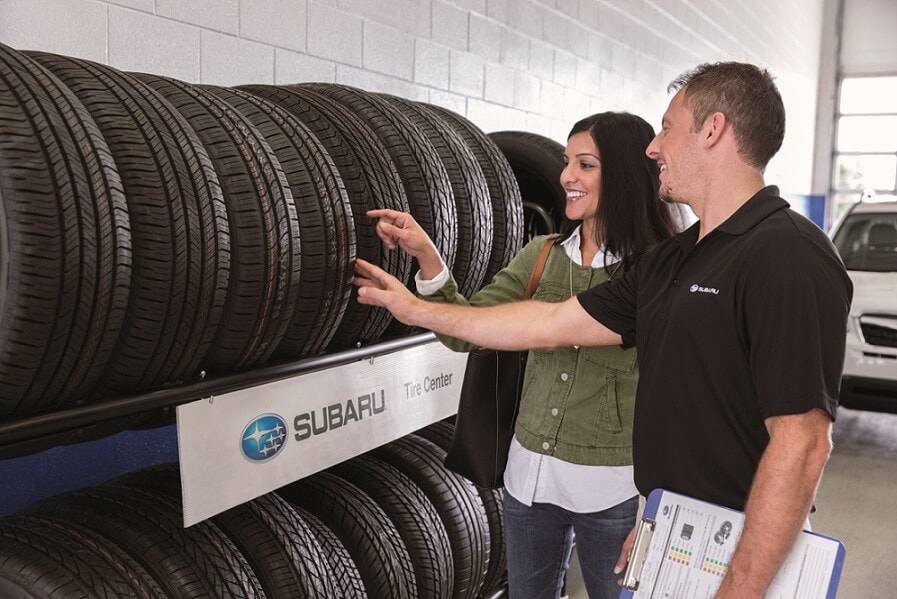 Checking your tire pressure
Its a good habit to visually inspect your tires before any trip, but you should check the pressure of all four at least once per month. Too much or too little air in tires can affect handling, fuel economy, and their lifespan. There is a sticker on the inside of your driver's side door jamb that lists the correct pounds per square inch (PSI) of air in your tires.
The Pressure Warning Light
If your Subaru is equipped with a Tire Pressure Monitoring System (TPMS), this warning light will appear on the dashboard if one or more of your tires (excluding the spare) have an incorrect tire pressure. This could be caused by a change in temperature or an indication that you have a loss of air pressure. A flashing TPMS light may mean there us a sensor error, and will need further inspection by our Factory Trained Teams to correct.
Rotate your tires!
Tire rotations help prolong tread life by distributing even tread wear. Subaru recommends having your tires rotated every 6,000 miles.
We thoroughly inspect your tires
When you visit us for your service, our Factory Trained Teams check the condition of your tires during your free Multi-Point Inspection :
Check/adjust tire pressure
Measure tread depth
Inspect for abnormal tread wear
Check for foreign objects that may cause leaks
Time for replacement?
When it's time for new tires, our Factory Trained Teams know exactly which set was engineered to help your Subaru perform at its best. So we carry the tires that fit your vehicle and your lifestyle. And, you can easily schedule a tire inspection or replacement service with us online or by phone.